Doctor of Philosophy in Medical Science
Etusivu ›
PhD ›
Doctor of Philosophy in Medical Science
Ohjelman kuvaus
In this research-based program, students are actively engaged in bidirectional translational medicine. The program emphasizes the study that either brings the current issues from patients and medical care to the laboratory settings or takes scientific discoveries made in the laboratory or the clinic and transforms them into new treatments and approaches to improve health and medical care in the community.
Along with the supervisory guidance, students identify the research question within the scope of medical science and work independently on the research project. Students are required to complete one taught module – Clinical Research Methodology which is designed to prepare students for their competency in project planning and management, and also becoming ethically literate and socially responsible. To graduate, students must produce a thesis based on their original research and subsequently pass the thesis examination and viva voce.
Intakes
January, March, June & September
Duration
3 Years (full-time)
4 Years (part-time)
Program Structure
Clinical Research Methodology
An advanced study of the management of a research project. The first part discusses the design of a scientific project in health and medical settings, including research questions, hypothesis, method selection, problem-solving, and data collection and analysis. The second part consists of ethical theory and ethical issues related to clinical research especially the application of ethics for utilizing human specimens. The third part of this subject focuses on the statistical analysis and its methods.
Thesis
Production of the thesis is based on students' original research throughout the Ph.D. candidature. Students must submit a Ph.D. thesis and obtain a passing grade in the thesis examination in order to be awarded a Ph.D. degree.
Areas of Research
Aging
Anatomy
Behavioral Health
Biochemistry
Biostatistics
Cancer
Cardiovascular Disease
Cholesterol problems
Cell Biology
Counseling Psychology
Diabetes Mellitus

Genetics
Histology
Heart failure
High Blood Pressure (Hypertension)
Hypertension
Immunology
Medical Imaging
Medical Physics
Microbiology
Molecular Biology
Neuroscience

Nuclear Medicine
Nutrition Science
Pathology
Pharmacology
Physiology
Primary care geriatrics
Radiation
Radiotherapy
Tissue Engineering
Toxicology
Virology
Entry Requirement
Master's Degree: A Master's degree related to Medical Science
Other Qualifications: Other qualifications that are equivalent to a Master's degree or professional qualification related to the field of Medical Science and experience recognized by the University Senate
English Language Requirements
IELTS: 6.0
TOEFL: 550 (paper-based), 213 (computer-based), 80 (internet-based)
PTE Academic: 50 overall (minimum 46 in each skill)
Cambridge English (First): 75+
Cambridge English (Advanced): Minimum 67
For International/Malaysian Applicants Medium of instruction of the previous degree in English or Competence in English language and a TOEFL score of 600 or equivalent for candidates from universities in non-English speaking countries outside Malaysia.
Application Procedure
The following documents must be completed and signed if necessary:
One (1) Passport-sized Photographs
Please write the name at the back of the photographs
Passport size photos must be in sky blue background and the measurement must be 3.5cm x 5.0cm
Postgraduate Application Form
Research statement/proposal (details are described in the application form)
A recent copy of your Curriculum Vitae (CV)
Scholarship application form including one (1) page personal statement to support a request for a scholarship (if applicable).
The following true copies of documents must be certified :
Passport (All Pages Including Blank Pages - for International Students) or Identity Card (For Malaysian Students)
English Language Qualification (IELTS/TOEFL/MUET/Others for International Applicants Only)
Academic Qualifications/Results (Certificates and Complete Transcripts) (Degree/Master's Degree/Others that are Certified)
Two (2) academic references. These should be from academic lectures under whose tutelage you would have been at some point during the duration of your postgraduate/undergraduate degree. The references must be signed and dated within the last 24 months and should be written with regard to your academic skills and your ability to successfully complete the Ph.D. program. The references will have to be sent from an official email address within the referees' institutions or on letter-headed paper bearing the institutions' names.

Hardcopies documents are to be sent to the correspondence address as below. Documents will be processed once the application is complete.
Postgraduate Administrator
School of Healthcare and Medical Sciences
SUNWAY UNIVERSITY
No. 5, Jalan Universiti, Bandar Sunway
47500 Selangor Darul Ehsan, Malaysia
Viimeksi päivitetty Heinä 2020
Oppilaitoksesta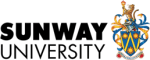 For almost 32 years Sunway University has established a reputation both in Malaysia and overseas, as an inspiring educational leader. Perfectly harnessing the highest quality of academic personnel and ... Lue lisää
For almost 32 years Sunway University has established a reputation both in Malaysia and overseas, as an inspiring educational leader. Perfectly harnessing the highest quality of academic personnel and an exceptionally diverse range of programmes any global educational powerhouse would be proud of.
Näytä vähemmän